For many years I thought that my husband's great grandmother, Florence FLETCHER was the daughter of John William FLETCHER and Jemima FARNELL. In June of 2016 I determined that this was not the case based on DNA testing and comparing results with other FLETCHER families. However I will leave this history online in case someone is connected to this other FLETCHER family and wants the information.
Florence Fletcher was born in the early 1870s. I found the birth certificates for most of her siblings but not for her. I think it is more likely that she was born in 1872 or 1873 based on the birthdates of her closest siblings. I assume she was born in Dalton, Huddersfield, Yorkshire, England, the same birth place as her siblings.
Her father was
John William Fletcher
(b 24 Nov 1818 in Barnsley, Yorkshire) and worked as a bookkeeper. Her mother was
Jemima Farnell
(b 5 Aug 1843 in Market Drayton, Shropshire). John and Jemima were married in Manchester, Lancashire in 1864 and their first two children were born there. After that they settled in Huddersfield, Yorkshire and had 7 more children.
John William Fletcher was married at least once before to
Sarah Ann Horton
(b abt 1820 in West Bromwich, Warwickshire), and had at least 4 children with her: Lucy, Samuel, Jane and Charles. But I was never able to find out what happened to any of them.
Florence had 9 siblings: Louisa, Thomas, Emily, Lillian, Albert, Harry, Walter, Ernest, Frank. Walter died as an infant in 1881. Around the same time, the oldest daughter, Louisa,got pregnant and married Joseph Hague. She gave birth to a daughter Ada in 1880. For some reason the marriage dissolved and Louisa ended up changing religions, marrying Patrick McCarrick, and moving to Manchester,Lancashire. No sign of what happened to her first husband, Joseph, or her baby Ada.
The family seems to be falling apart during the late 1880s and 1890s. I found this article in the Derbyshire Times and Chesterfield Herald 9 Nov 1889. The Fletchers seem to have moved to Eyam Dale, Derbyshire and John William FLETCHER is landlord of a bar. Clearly the family is having a few problems: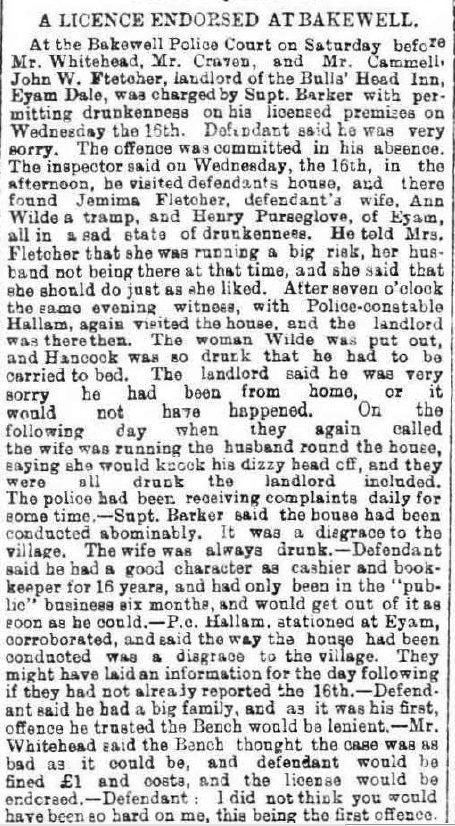 Shortly after this article in the 1891 census, John William Fletcher is in the Sheffield Workhouse and his condition is listed as "lunatic". Jemima and her children, Florence, Frank, Harry and Ernest, are in Willaston, Nantwich, Cheshire. Florence is 19 and lists her occupation as "unemployed barmaid". Brother Albert is in an Industrial School in Everton, Lancashire.Shortly after the census was taken John William dies on 28 Apr 1891 in the Sheffield Workhouse of "Paralysis and Influenza", at age 75.
After 1891 it looks like the younger boys, Harry, Frank and Ernest were either adopted out or sent to Industrial Schools. I can't find a death certificate for mom Jemima but find an interesting entry in the 1901 census in Fernilee, Derbyshire:

I believe that the entry for Ann Fletcher is most likely my Jemima Fletcher, since she is living next door to her daughter Lillian Hancock and gives her actual small town of birth, Market Drayton. So what happened?Why aren't her children with her and why the name change?
During the decade of the 1890s, Florence travels nearly 200 miles south and for the 1901 Census is in Chipping Sodbury, Gloucestershire. She is working as a barmaid in the Grapes Hotel. The census took place on March 31, 1901, so Florence was about 3 months pregnant with William Henry Fisher. But she already had a daughter, Edith Florence Alice Fisher (b in 1900), who is not living with her in the hotel. Florence lists her name on the census as "Florence Fletcher", and states she is single, but William and Edith's birth certificates state that her name is Florence Fisher and that she is married to Harry Fisher. Where are Harry and Edith?
In the map below you can see Florence's travels from the mid 1880s until 1911, when she is in the Easton section of Bristol, England. The
red marker show where her sister, Lillian Hancock is living next door to Ann Fletcher, who I believe is Jemima.